"My ultimate goal is to teach Taekwon-Do to everyone" General Choi Hong Hi, founder of Taekwon-Do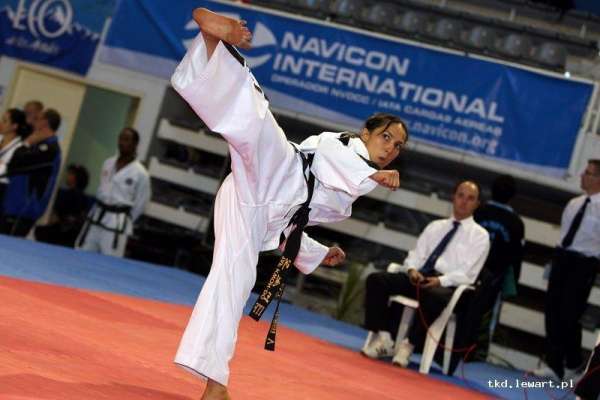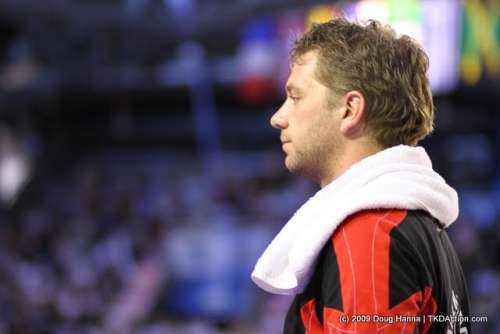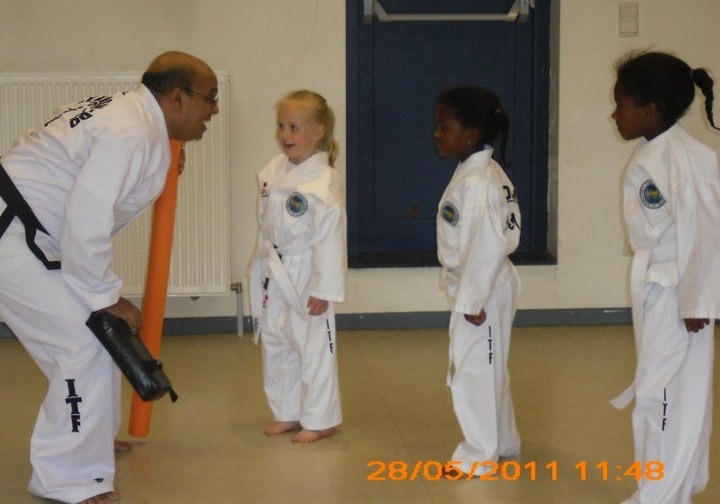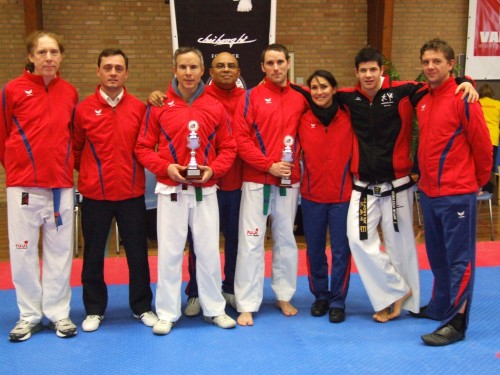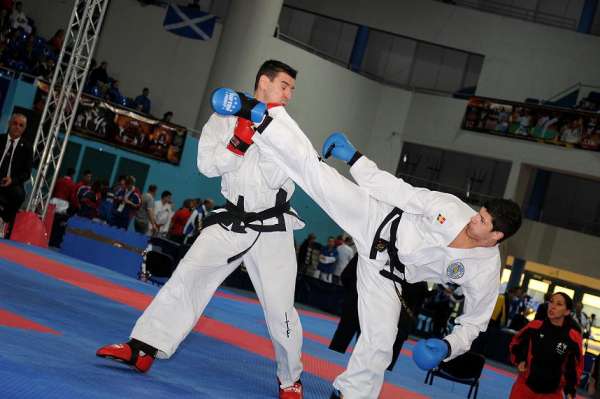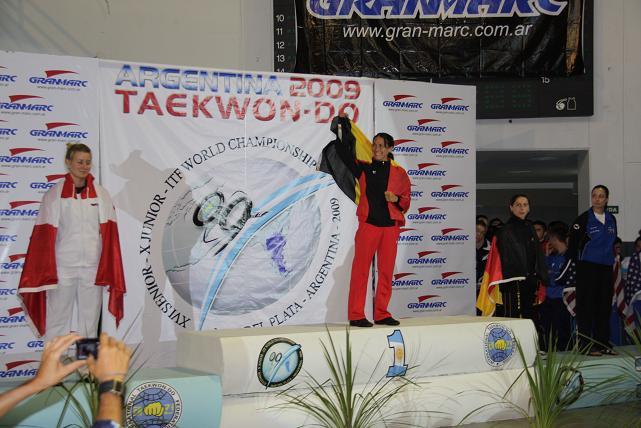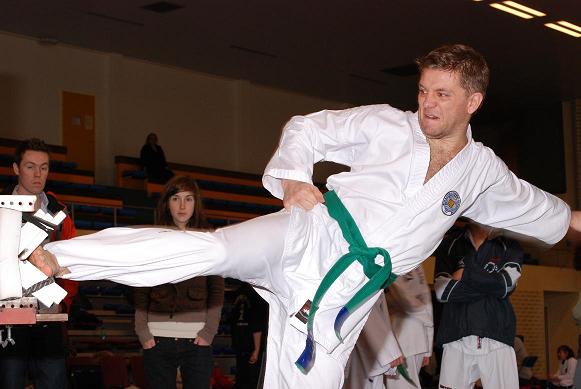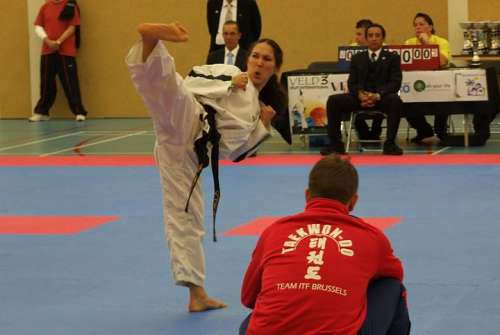 Kupgrading September 2008 /January 2009

During the season September 2008 /January 2009, six people successfuly tested their kupgrade:

ITF BRUSSELS congratulates all of you!

III World Cup

October 2008,

Riva del Garda, Italy.

The World Cup is an open

competition held every two years in the even-numbered years and it is open to blue, red and black belts. Any club, school, individual or country may participate with as many individual and/or team members in the same division and or category

Andreea Musca : bronze tul female 15-17 years II degree &

bronze sparring female black belts 15-17 y -50kg.

Pascal Raeijmaekers : bronze sparring male 36-45 years black belts +78kg.

Team girls: bronze female team sparring black belts 15-17 years.

Silver Medal for Sabum Virginia in New York

28th September 2008, New York, United States.

Sabum Virginia wins a silver medal in Female Patterns IV-V degree at the XIII Queens-New York TKD Tournament.

The tournament, organized by the director of

Queens TKD Center

Master Ruben Suarez, was a success. More than 300 competitors from different countries like Colombia, Puerto Rico, Jamaica, Canada, Poland, Ukraine, Tajikistan and United States attended the event. For a lot of them, included for Sabum Virginia, it was a good preparation before the 3er Taekwon-Do World Cup.

Friendship and hospitality were the distinctive marks of the competition.

After the tul competition, Sabum left the hall, as Manhattan was waiting for her...

Taekwon-Do exhibitions

6th

September 2008, Namur, Belgium

Sabum Virginia Dionisi was invited by the school

Choong-Moo

(

leaded by Sabum Emmanuel Fantacci) to participate in an exhibition organized by the city of Namur in the framework of the

"1er Festival des Arts Martiaux".

In only five minutes the the Demo Team of Wallonie, performed a large number of TKD techniques (pre-arranged free sparring, breakings, sparring and patterns).

Sabum Virginia performed Mum Mum tul

Taekwon-Do exhibitions

31st August 2008, Hofstade, Belgium

Sabum Virginia was invited to participate in a Taewon-Do demonstration organized by the school HWA RANG - K Team leaded by Bo Sabum Marc Gallo.

The event was held in the framework of Sporza Music in

the

Sportimonium of Bloso in Hofstade Belgium.

In a sunny day and very near to the beach, Sabum Virginia with other TKD practicioners from Hwa Rang K Team and Hwa Rang club, performed some patterns and fighting techniques.

Color Belts Exams

3rd June 2008, Brussels, Belgium.

Six students of ITF Brussels have been promoted by Sabum Virginia Dionisi:

Congratulations to all of you. You did very well !!!




Sabum Virginia Dionisi European Champion in Poland

16-18 May 2008, Wroclaw Poland.

Sabum Virginia Dionisi wins Gold in Female Senior Patterns IV-VI degree at the

European Championship

in Wroclaw, Poland. The XIV Junior and XXIII Senior European Taekwon-Do Championships were the 2nd biggest tournaments ever, with nearly 500 competitors from 31 countries.

This year and due to a lot of injuries, the Belgian team was smaller than former years. Nevertheless Youssef Ahidar, Bistra Dencheva, Wim Vermeir, Steven Satyn, Julien Walraedt, Patrick Crevecoeur and Sabum Virginia Dionisi represented Belgium in a very high level.

On Saturday evening, Sabum Virginia had an injury while doing power breaking, consecuently she couldn't compete at the pre-arranged free sparring.

Congratulations to the Belgian Team!

Martial Arts Night in Luxembourg.

29th March 2008, Troisvierges, Luxembourg.

Sabum Virginia Dionisi participated at the I Martial Arts Night Demo organized by Taekwon-Do Norden (ITF Luxemburg).

Sabum Virginia was part of the ITF Taekwon-Do demo team from Belgium. The leader of the demo team was Master Frank Vanberghen, helped by Annick Van Driessche, Eddy Van Damme, Patrick Crevecoeur, Wim Vermeir, Kristopher Baugniet and Marc Baugniet.

The Martial Arts Night was the occasion to see demos of different disciplines and practitioners from Belgium, Luxemburg and Germany.

18th Belgian Championship

16th March 2008, Izegem, Belgium.

ITF Brussels competed at the 18th Taekwon-Do Belgian Championship for juniors and seniors.

Nine schools from all over the country participated in tul, teamtul, sparring, power breaking, special techniques and pre-arranged free sparring.

ITF Brussels come back home with two Belgian champions (Sabum Virginia and Gonzalo), and many other good results:

Sabum Virginia Dionisi, 1st place in Tul III-IV Degree, 1st place in Power Senior Female 2nd in Female Sparring -58 kg

Bo Sabum Louis Lamoureux, 2nd place in Male Sparring -63 kg and 3rd place in Tul I Degree

Gonzalo Escribano, 1st place in Male Sparring IV-IV Kup -80 kg.

Jody Braibant, 3rd place in Tul Senior White and 3rd place in Male Sparring X - VIII Kup + 80 kg

Aurélien Lebourg, 3rd place in Tul Senior White and 3rd place in Male Sparring X - V Kup - 63 kg

Xavier Rossey, 3rd place in Male Sparring X-VIII - Kup -80 kg

ITF Brussels White, 2nd place in Team Tul (Xavier Rossey, Jody Braibant and Aurélien Lebourg)

ITF Brussels Green, 3rd place in Team Tul (Charlotte Dubreuil, Benito Martinez and Gonzalo Escribano)

We have a new black belt in the school !!!

17th February 2008,

Lokeren, Belgium.

Louis Lamoureux has been promoted to 1

st

degree by the

Belgian Grading Committee.

(Master Frank Vanberghen, Annick Van Driessche, Virginia Dionisi, Eddy Van Damme and Emmanuel Fantacci.)

Louis started doing Taekwon-Do in September 2001 in Ottawa, Canada with Steven LeGrow in

Blackburn Taekwon-Do School.

When he moved to Brussels he continued practicing in the school Hana with the instructor

Hassan Baage.

In December 2005, when ITF Brussels was born,

Louis

was one of the first students to train with us.

ITF Brussels asbl - Avenue du Manoir d'Anjou n° 25, B-1150, Brussels